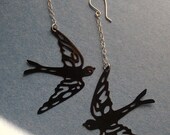 Light as air glossy black stampings of birds in flight. Perfect for making a big statement without a lot of physical weight. (The emotional weight of your own words is entirely up to you.)




Today's featured Etsy item. Use coupon code TWEETS for 10% off!

Click Here to Visit My Etsy Shop!