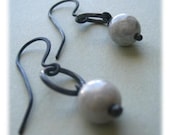 Darkened sterling silver tops speckle gray glass beads.



A wonderful mix of shiny beads and matte black metal.



The beads are wrapped in handmade by me fine silver headpins, and hung form handmade by me sterling silver rings and ear wires. All silver is oxidized.





Click Here to Visit My Etsy Shop!