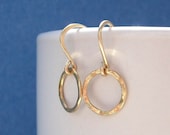 Little rings of 14K gold filled wire, shaped to an organic, rustic ring. I then textured them with various punches and burnished them for mirror like shine.



No 2 pairs are exactly alike, each pair is unique and One-Of-A-Kind.


Today's featured @Etsy item - Use coupon code TWEETS for 10% off!

Click Here to Visit My Etsy Shop!