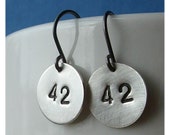 "Forty two?!" yelled Loonquawl. "Is that all you've got to show for seven and a half million years' work?"



"I checked it very thoroughly," said the computer, "and that quite definitely is the answer. I think the problem, to be quite honest with you, is that you've never actually known what the question is."


Today's featured @Etsy item - Use coupon code TWEETS for 10% off!

Click Here to Visit My Etsy Shop!