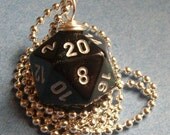 Show them how you roll with this 20-sided die pendant. Smoke Borealis; rich smoky gray (almost black) with teeny tiny iridescent glitter throughout, with white numbers.



Great for Geeks.



Great for Posers.



Just freakin' great.



Today's featured @Etsy item - Use coupon code TWEETS for 10% off!

Click Here to Visit My Etsy Shop!