A HUGE thanks to The Ladies (and gentleman) over at EB for posting about etsyHacks last week.

I had no idea what a grease monkey was (other than the guy who works at the car dealer up the road in desperate need of a shower), but now, thanks to Ian over at etsyHacks, I am HOOKED!

etsyHacks is a set of GreaseMonkey scripts designed to make etsy more usable to sellers and buyers. You can modify your invoices, make your ship more seller friendly, and make the forum easier to communicate on, all with a little bit of "tweeking" that takes less than 3 second to install.

Right now, i am absolutely in love with the "quote post" function, which allows you to quickly post a full quote to reply to.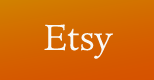 I also get all giddy over the "edit this item" function, which allows sellers to edit items from the "front" end of their shop, essentially making their currently active items search able.

These two things alone are going to save users HOURS of time every year.

So sellers, get to etsyHacks and make your shop more usable.

Buyers and community members who love the forum, check out the "quote post" and "user links", they make the forum SO much easier to use, you might never get ANY work done ;)