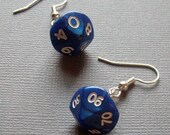 Show them how you roll with these earrings, featuring the 10 - sided and 10 - sided percentile dice from a mini set. Each die measures about 12mm or 1/2 an inch.



Today's featured @Etsy item - Use coupon code TWEETS for 10%

Click Here to Visit My Etsy Shop!