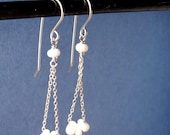 Blame my love of Tim Burton on these, too. I can see the White Queen wearing these.



Czech drop beads, in the whitest of whites, strung on fine shiny silver chain in a trio cluster. Topped with a single Czech Glass bead, wrapped up in fine silver wire and hung from handmade by me sterling silver ear wires.


Today's featured @Etsy item - Use coupon code TWEETS for 10% off!

Click Here to Visit My Etsy Shop!